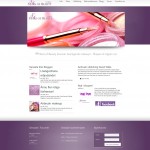 Last weeks we have been busy weith setting up a rather big site with many various functions, all integrated within the same CMS. The site is still adding products to the shop (as they get home and in stock, and we can photograph them), as well as the forum are continuing to grow with new members and posts/threads, all fun to see in action 🙂
The site has functions like:
+ Business portfolio site with Blog
+ Complete Forum site/system
+ WebShop with Card & Invoice payments
+ Member Porfolios
+ Newsletter mailersystem
+ Photography of Staff and webshop products
+ Full CMS.
+ Site design custom (based on existing theme).
+ Full website hosting on our server.
Visit the site at: http://www.starsofbeauty.se