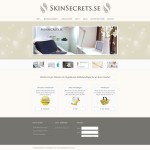 Now we are working on the next business site for SkinSecrets in Stockholm. All major sektions and design are up and the page texts and photos are taken on staff and webshop products as we speak. Some more days work before the grand opening since we are waiting for some material… 🙂
This site will have:
+ Business presentation site with Blog
+ Treatment presentations & pricelists
+ WebShop with Card & Invoice payments
+ Newsletter mailersystem
+ Photography of Staff and webshop products
+ Full CMS.
+ Site design custom (based on existing theme).
+ Full website hosting on our server.