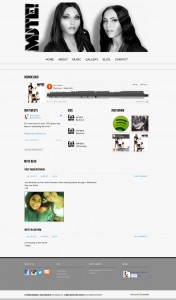 Now our latest work with the dj-duo Mute! site are officially online, and they have their new site up and running!
After studio photography shoots at Zolex Studios (thanks to Sophia E. – Avantgardemakeup & Louise B), and image selecting etc, it's now ready enough to open. More images/media will continue to be uploaded.
Now they are starting to use the requested functions and interactions between their new facebook page, Instagram page, Soundcloud page and new Twitter page. All collected and shown automaticly directly online on their new Mutemusic.se site.
And when writing on their blog about gigs etc they can easily share it out to facebook friends and their page etc.
A Gigs/tourdate list that they or their management/booking agencies can update from their smartphones (as the rest of the site and socialmedias) are implemented in the site functions, since they all often are on the road/tour.
// Zolexdomains crew